Some Assembly Theatre Company's
New Production Uprooted is moving forward!
Working with the guidelines from WorkSafeBC and Vancouver Coastal Health, a digital adaptation of Uprooted is in process. After working remotely and rehearsing on zoom for almost four months, we are excited to share Uprooted with you soon.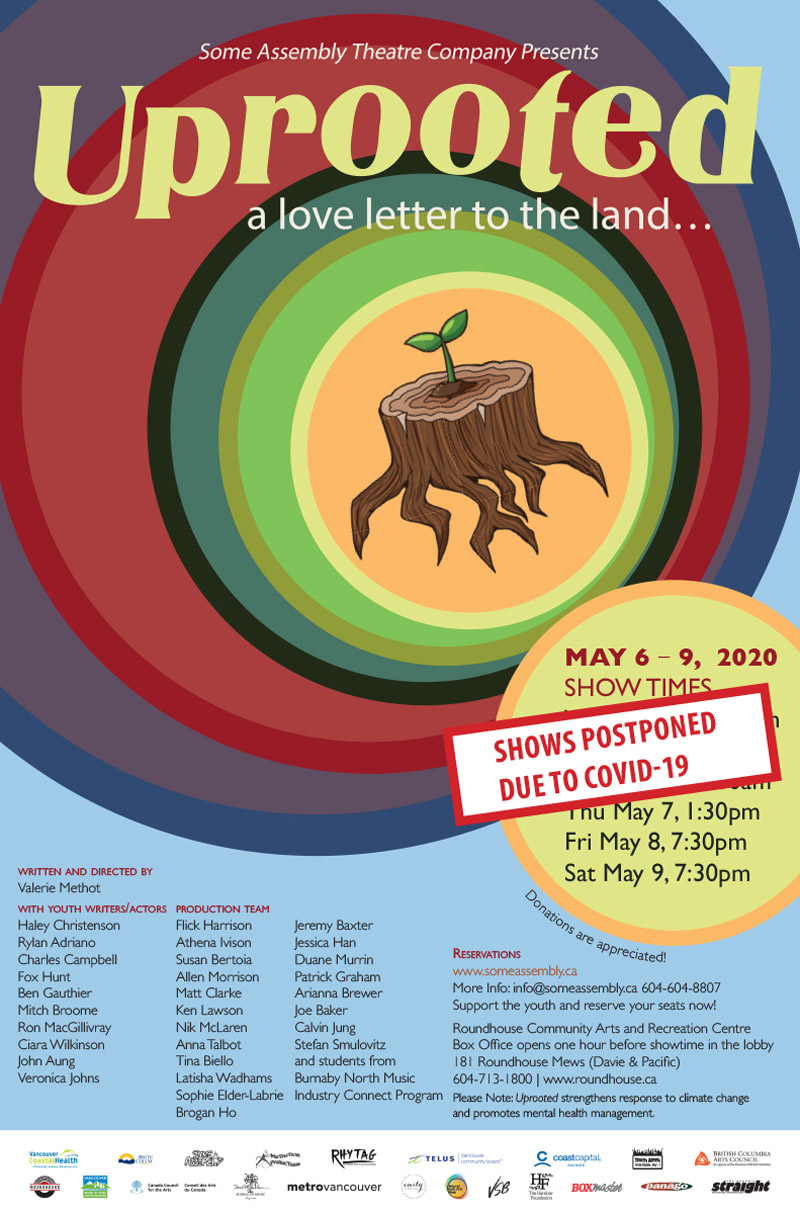 Uprooted
a love letter to the land…
Written and directed by Valerie Methot with youth writers/actors Haley Christenson, Rylan Adriano, Charles Campbell, Fox Hunt, Ben Gauthier, Mitch Broome, Ron MacGillivray, Ciara Wilkinson, John Aung and Veronica Johns.
Three friends on an annual camping trip must suddenly face a threat to the BC forest they love. Will they take a stand for future generations and protect what they view as sacred?
Uprooted stems from conversations with over a hundred diverse youth who say they are anxious about climate change. Uprooted is a digitally adapted theatrical production that strengthens response to climate change and promotes mental health management.
SHOWTIMES: Plans are being made to share the link of the digital adapted version of Uprooted with schools on September 15 & 16 at 11am & 1:30pm. A virtual Q&A will take place Sept 17 and 18th at 11am & 1:30pm.
RESERVATIONS: If you are a School or Community Group interested in receiving a link to see the film and participate in a Q&A, Contact Valerie: info@someassembly.ca
ADMISSION: Free for schools. Donations can be given via our Canada Helps page here..
The digital adaptation of Uprooted will also be presented at the Roundhouse Community Arts & Recreation Centre in September if it re-opens. Stay tuned…
Uprooted exists within a growing movement. Young people worldwide inspired by 16-year-old Greta Thunberg are raising their voices to demand climate action from world leaders. At the September 2019 climate strike and October Rally, Some Assembly stood in solidarity with youth climate activists including Sustainabiliteens, Greta Thunberg, 15 young people who are suing the federal government over climate inaction and Indigenous land defenders who've long been on the frontlines defending Mother Earth.
Some Assembly Theatre Company is in its 19th year of collaboratively creating and producing original plays that promote awareness, dialogue and positive social change about issues facing young people. The company is the recipient of the City of Vancouver Youth Award for outstanding contribution to the youth community and the Deryck Thomson Award for exceptional contribution to community building and well-being.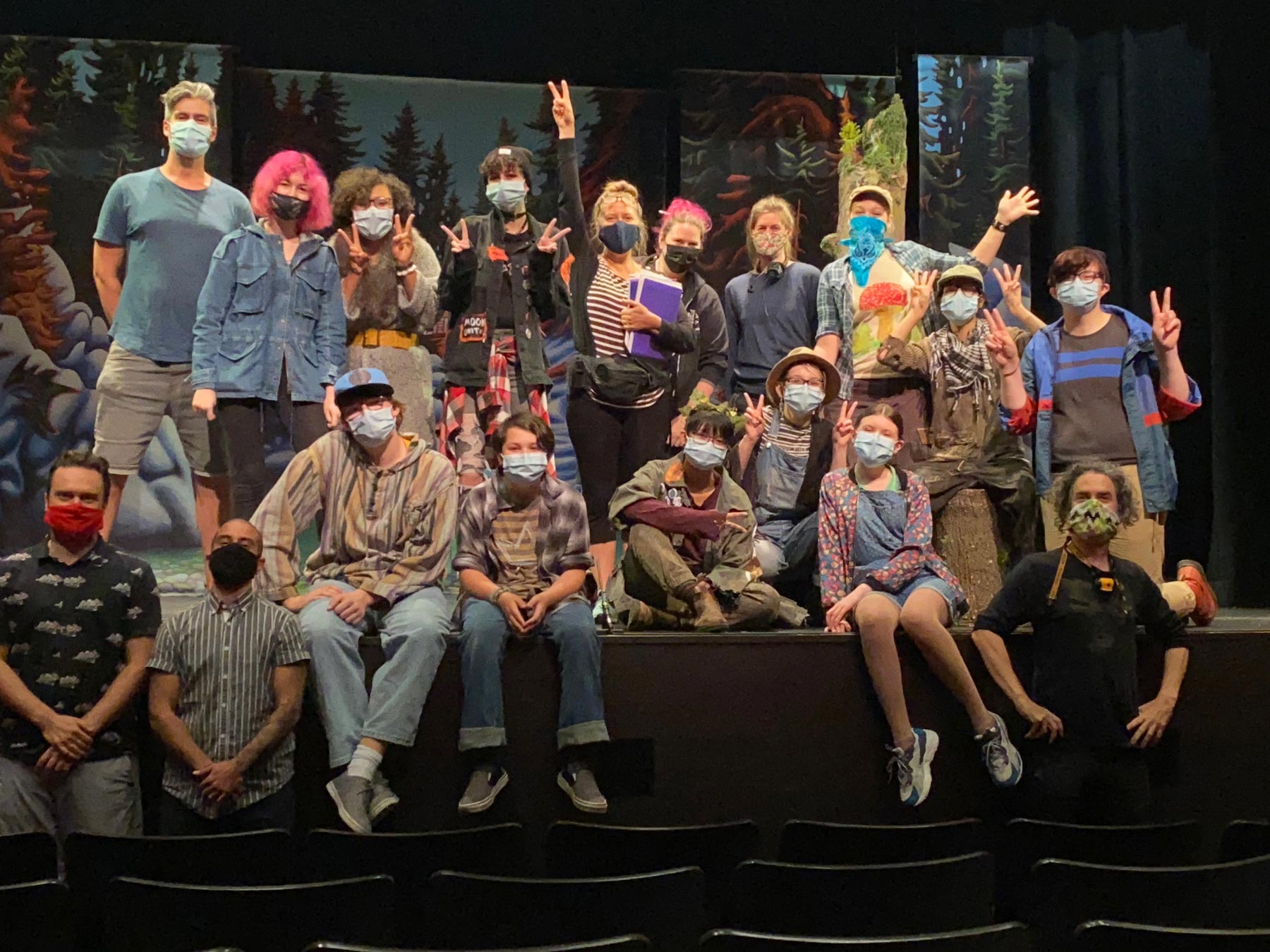 Production Team: Valerie Methot, Jeremy Baxter, Athena Ivison, Flick Harrison, Susan Bertoia, Allen Morrison, Matt Clarke, Nik McLaren, Anna Talbot, Sophie Elder-Labrie, Brogan Ho, Tina Biello, Latisha Wadhams, Chantele Fry, Duane Murrin, Patrick Graham, Arianna Brewer, Joe Baker, Sally Zori, Kryshan Randel, Calvin Jung, Stefan Smulovitz and students from Burnaby North Music Industry Connect Program.
Partners, Funders and Sponsors: Roundhouse Community Arts & Recreation Centre, Vancouver Coastal Health, Vancouver Board of Parks and Recreation, BC Arts Council, Ministry of Children and Family Development, Province of British Columbia, Canada Council for the Arts, City of Vancouver, Metro Vancouver, Telus, Coast Capital, Hamber Foundation, Vancouver Foundation, Private Donors, Sarah McLachlan School of Music, Vancouver School Board, Methotical Productions, Panago, Boxmaster, Wilderness Committee, and media sponsor The Georgia Straight.